High School Parents: Check your email for your students registration forms. Please fill those out and submit them. It is required. If you didn't receive the email, please email
voglera@eulaisd.net
What a great start to the year! Thank you all for your patience and understanding as we have many new normals. Please remember to send students in tennis shoes as we are going outside routinely for PE and breaks. Also please check for Library books that you may have at home so we can get those back . Thank you all for your support and it is great to be a Pirate!

Secondary Parents...If you haven't already, you will want to subsrcibe to the Extra Extraordinary! This will be the newsletter that will keep you up to date on all the awesome things happening at the secondary campus. It will be updated as we know events (or plans change), and we have awesome things to report about our kids! (almost daily!!!) By following the newsletter, you will be notified when the newsletter is updated.
https://www.smore.com/hdnk3

Wacky Wednesday's
Parents of Eula ISD kids. The issue with MySchoolBucks to deposit lunch money has been resolved. The system should be up and working correctly now. We are sorry for the inconvenience.
Thank you for your patience with dismissal yesterday and there are going to be adjustments for today's release. 1st change will be the entrance and traffic directions once in the parking lot. Next will be the release times and loading. PreK will release at 3:25 and all other grades will release at 3:35. In the cafeteria parking lot you will enter the far in as usual and be directed through the lot in an S pattern then we will utilize two lanes for pick up, see map. In the MS parking lot you will enter the far end and use a pick up lane and exit lane to leave how you came in. Again see map. Also if grades 2nd and below have an older sibling they will be all grouped together and picked up at the MS gym parking lot/awning instead of having to pick up at two spots. Again we will release K-6 at 3:35. Thank you for your patience as we work through this new process. Please look at the map on Facebook and the Livestream before coming this afternoon.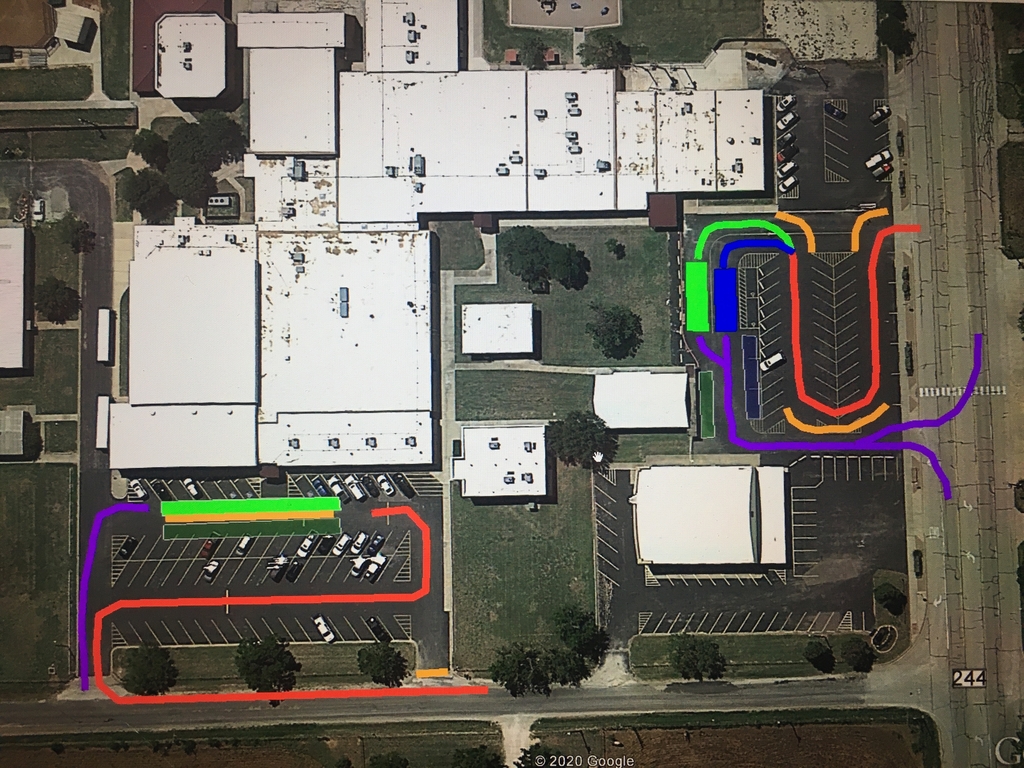 See the Facebook video and the attachments on Facebook and the live feed about Eula Elementary Virtual Learning this year.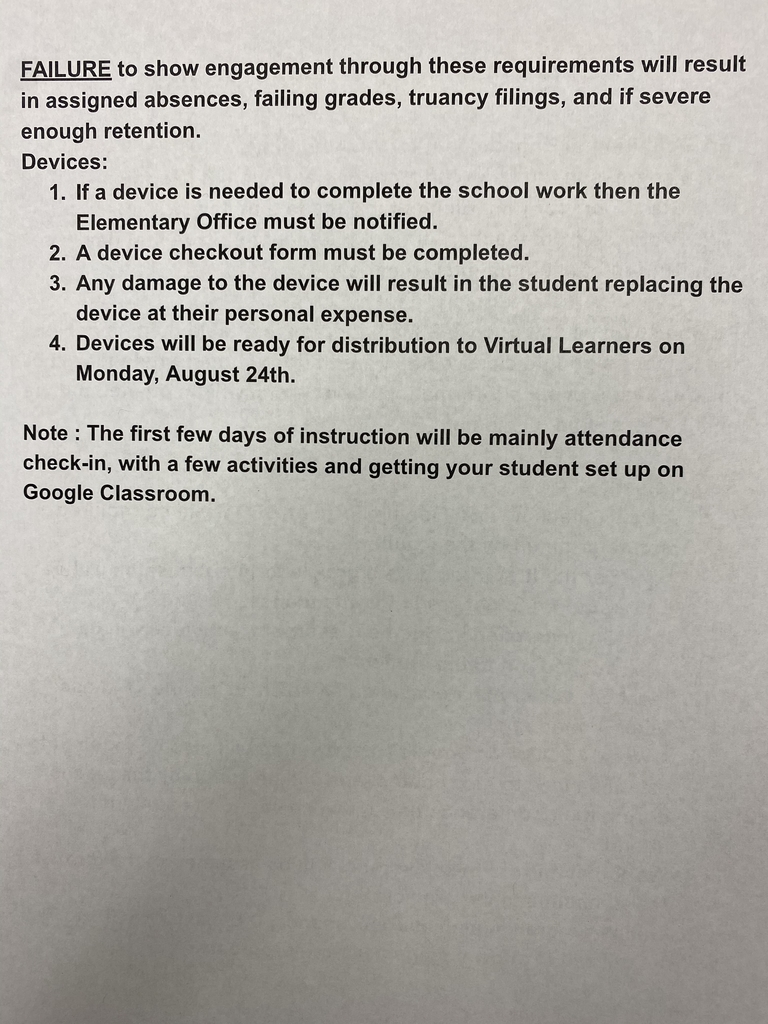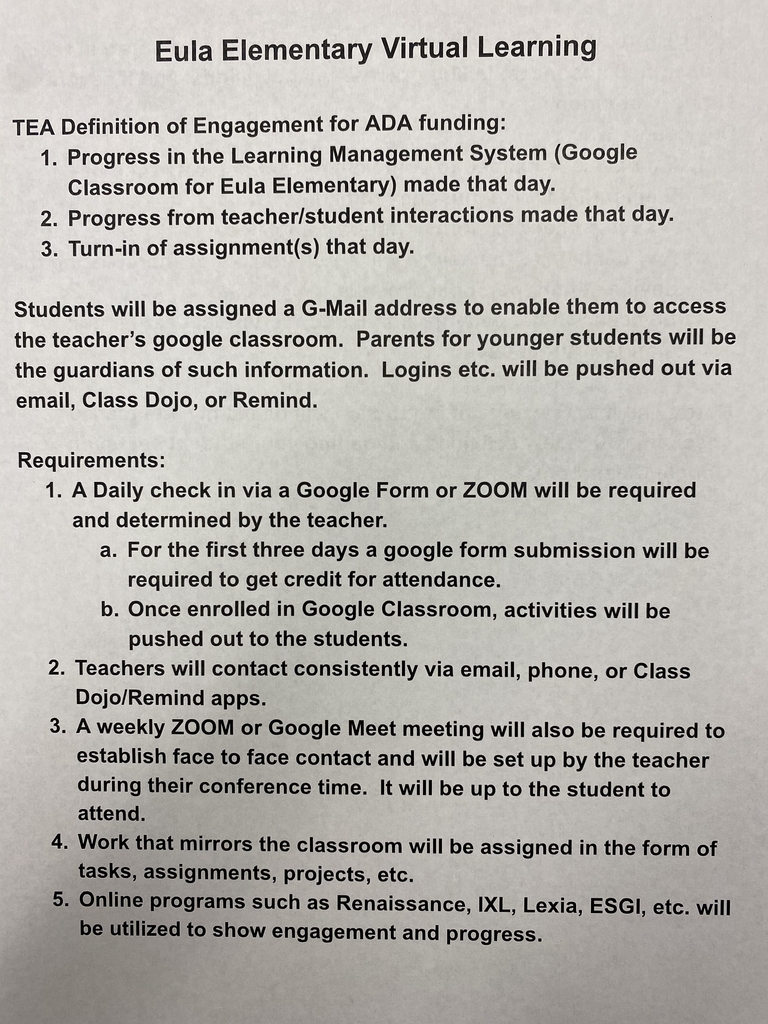 Tomorrow is the day Eula ISD Staff has been waiting for! We are so excited to have kids back on campus. Although some things will be different for all involved, we have no doubt that our staff and kids are ready for the challenge. It may take a while to work through all the challenges, and get the best procedures in place. We thank our families and students for being so cooperative and encouraging throughout this time since we last had students on campus in March. See you tomorrow!
As stated in the Eula ISD Reopening Plan, bus service will not be offered for those living within a 2 mile radius of the school. If you have questions please contact Eula ISD Transportation Department at 325-529-2002.
For those choosing virtual instruction information about the elementary will be pushed out and posted this evening by 6:30 pm through the app. First day procedures will be included.

*Students 7-12 please read.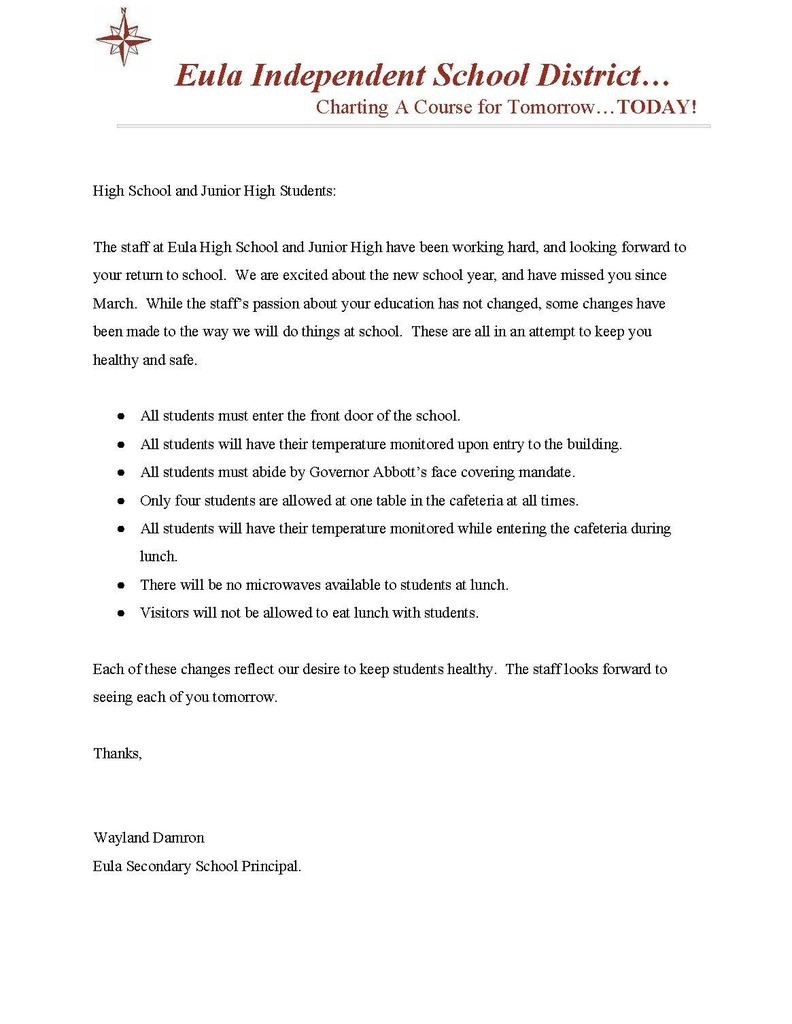 Remember that Grades 3-6 meet the teacher is tonight from 5:45-8:00 pm. Please remember masks are required, temperature checks, and limit the number of adults and siblings that attend. Bring supplies tonight. Grades 3-5 enter through cafeteria and 6th grade enter through MS Gym doors. Check the schedule for your time. Hope to see you this evening!

7th Grade Orientation will be Monday, August 17th at 8:00 p.m. at the Secondary Cafeteria. Please wear a face covering and use social distancing practices, and try to limit your group to students and parents only.
Please see the video posted on the Eula ISD Facebook Page that discusses Elementary Meet the Teacher on Saturday. Also, below is the schedule if you missed it the first time. See you tomorrow!!!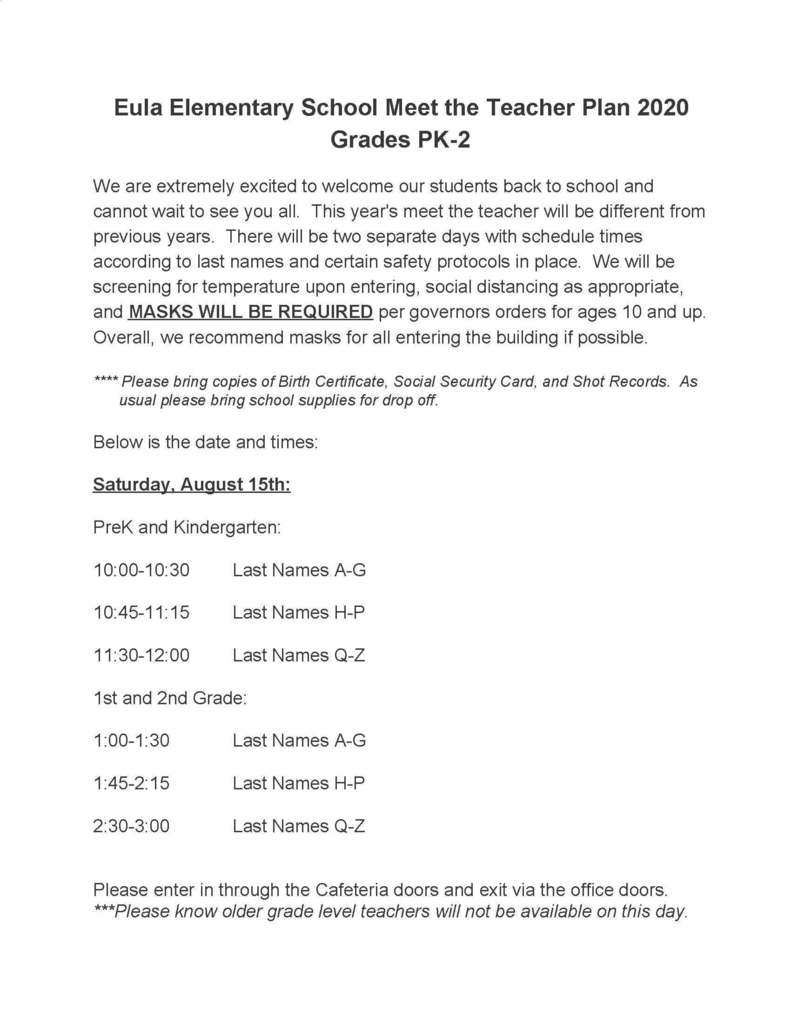 7th Grade Orientation will be Monday, August 17th at 8:00 p.m. at the Secondary Cafeteria. Please wear a face covering and use social distancing practices, and try to limit your group to students and parents only.
Thanks to Brittany Wagner for a great message today to our staff. We are ready to make a difference! @Brittany_MSgirl #wewanttoteach #PiratePride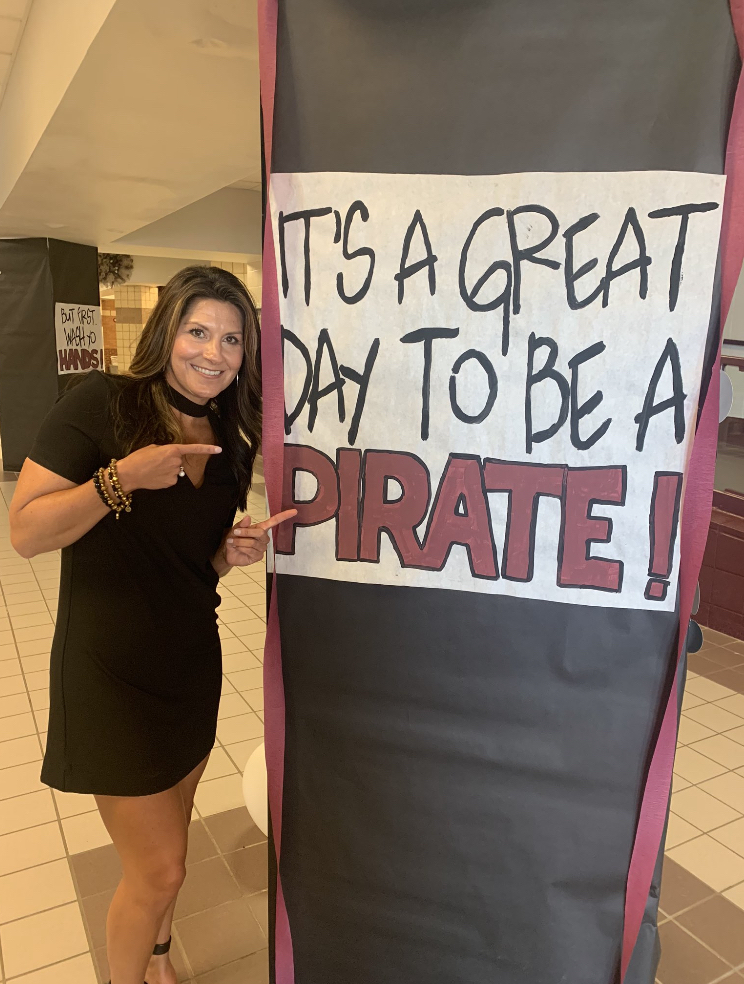 Please take note of the UIL requirement for a Physical Exam. This year only, we will only require a new Physical Exam for our student athletes entering 7th grade, or new to athletics that have not previously been cleared for participation through the school. The form can be picked up at the school or found at
https://www.uiltexas.org/files/athletics/forms/PrePhysFormRvsd4_24_20.pdf

In case you missed it earlier this week, here is the link to the OPT-IN to virtual learning. If you are choosing In-Person do NOT fill out the form. Please return by Wednesday, August 12th.
https://forms.gle/mEw5MasXNdHXdWDi9

Here is some additional clarification of the Governor's Order, and how it will be applied at Eula ISD