Attached are Elementary letter explaining online instruction and packet pickup schedule for Monday. Thank you for your patience and understanding throughout this process.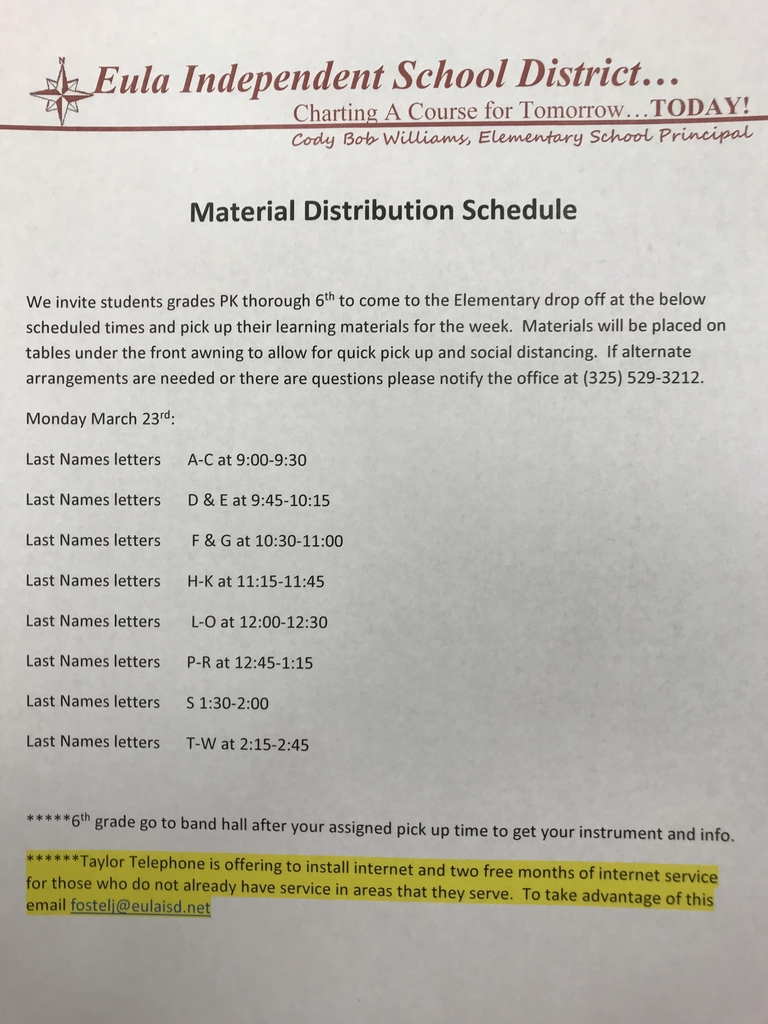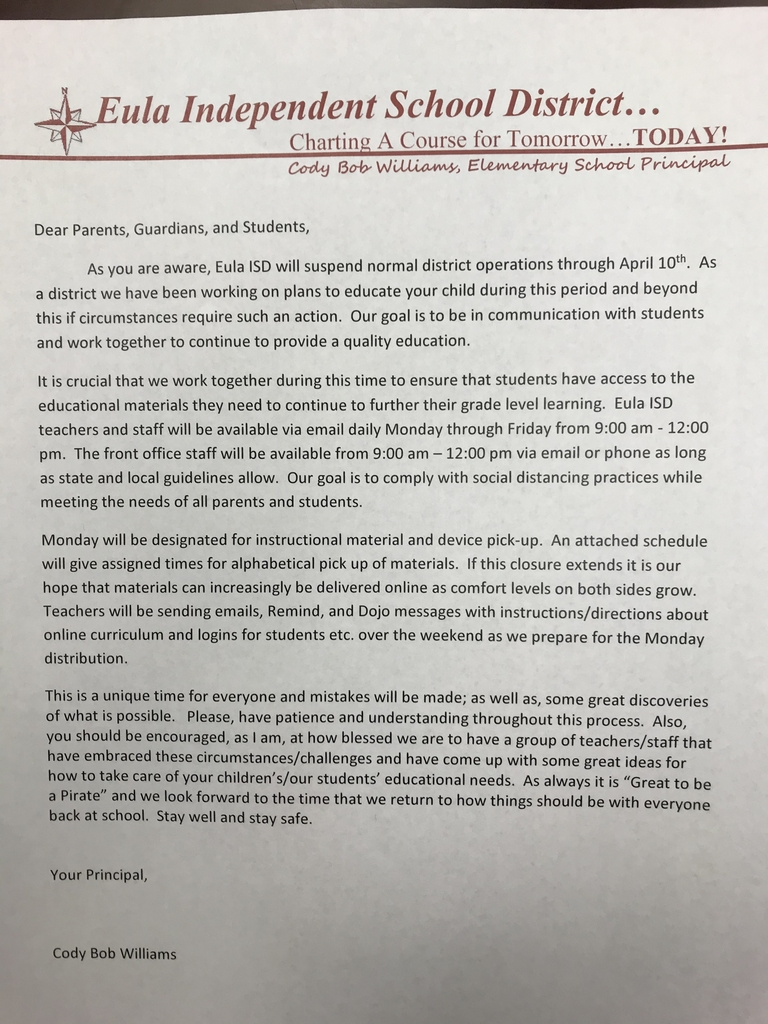 Hello students and parents. There is a letter attached to this post that will help explain the expectations of students who attend Eula Secondary School. The teachers have worked hard to generate this new method of instruction, and I know the students will rise to the challenge.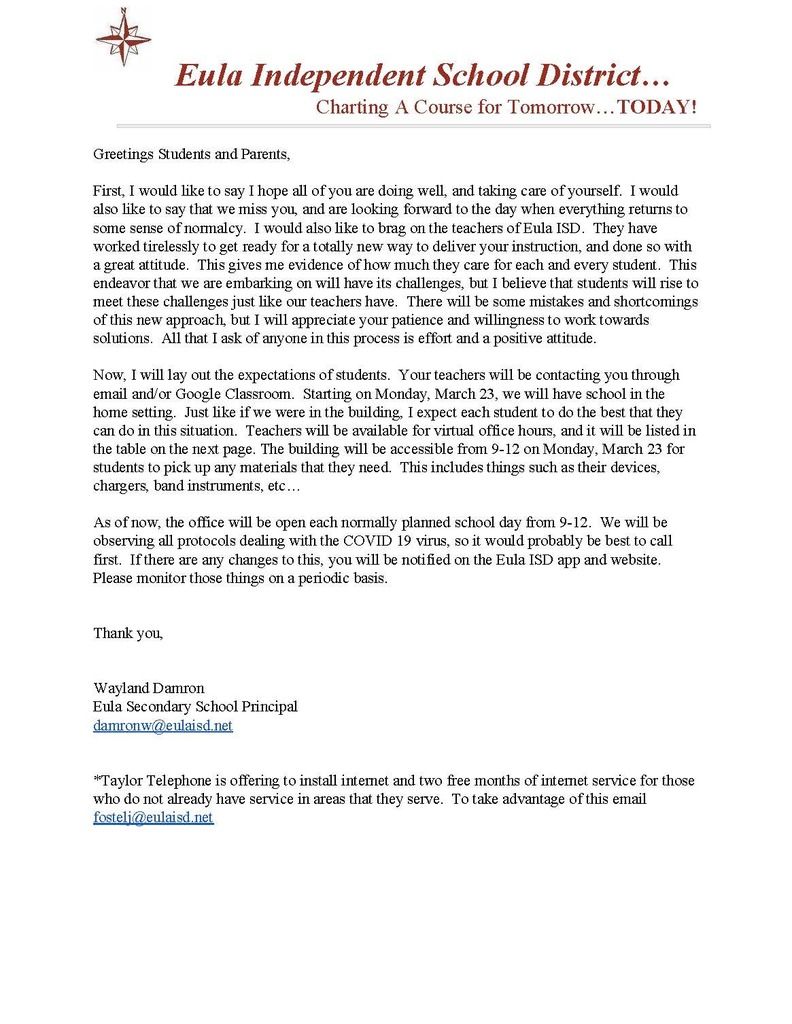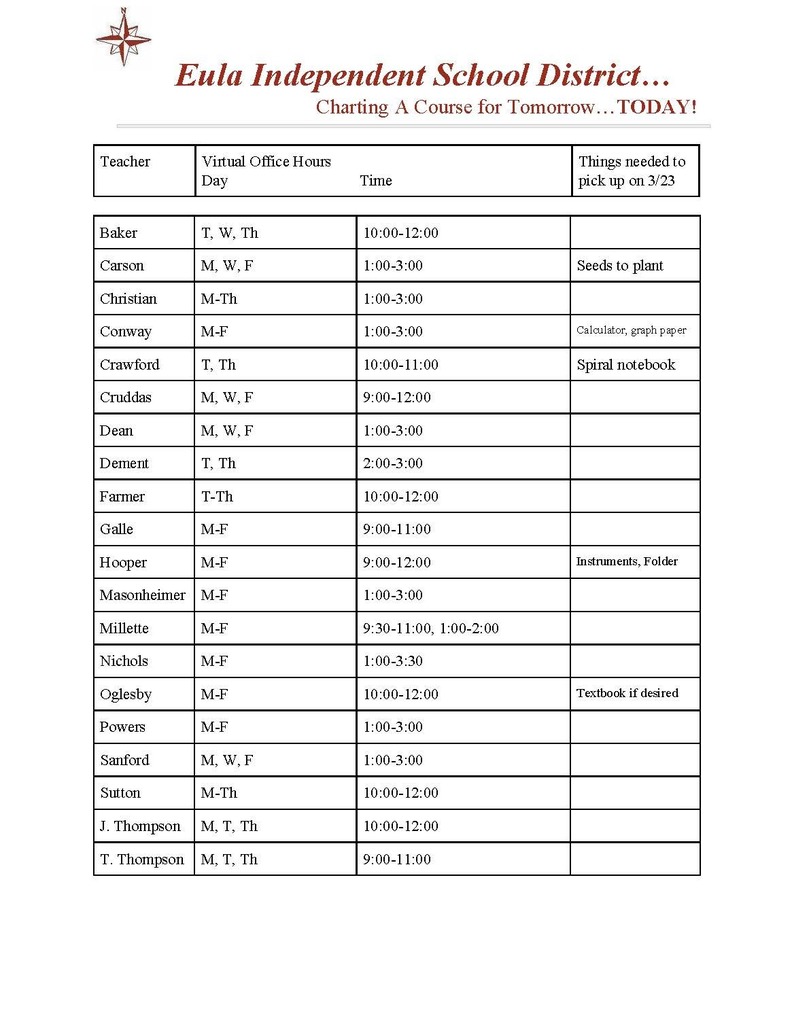 Please review the information released by the UIL in regards to UIL Activity at this point. "Please know that we realize you are looking for clarity in this uncertain time. Unfortunately, we simply do not have enough information at this moment to provide you with a detailed plan for moving forward with UIL activities. As soon as we have more information on when schools will resume operations, we will quickly respond with a detailed plan for resuming UIL competitions. At this point, we are committed to completing all of our competitive seasons that have not yet been completed. While the immediate future is unclear, we will continue to develop contingency plans and prepare for all possible outcomes, including extended school closures. We have previously communicated that all UIL activities are suspended until March 30th. Given information related to school closures available at this time, we are extending that timeframe. UIL games and contests will resume no earlier than Monday, May 4th. Prior to that date, to allow students and schools to reenter competition, UIL will provide a reasonable acclimatization period for rehearsals and practices to occur, consistent with the advice of local, state and federal officials. We will reevaluate the beginning dates for practices and rehearsals as we receive more information about schools resuming. We will be providing more guidance on district and post-season date adjustments related to this extension in the coming days. We will be as flexible as possible to help you complete district competitions and provide your students with all of the benefits that come from competition. Please do not begin to make plans for district competition prior to receiving this additional information."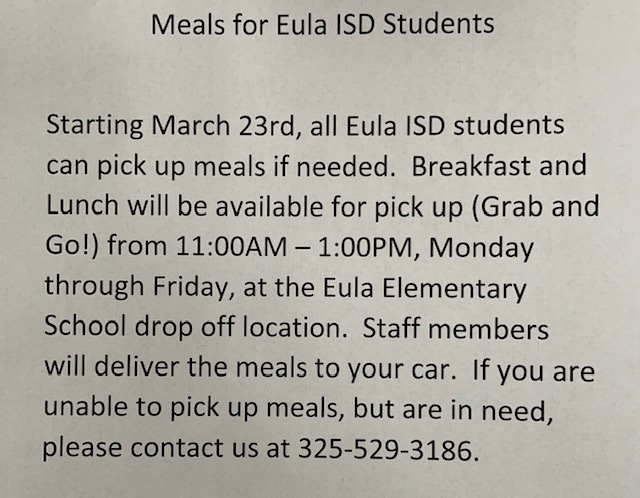 Eula ISD will be announcing an update on transferring from school based to home based learning tomorrow. Stay tuned to the app the next couple of days for further details.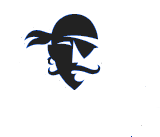 The Jr/Sr Prom has been postponed to a later date.
Please read the attached letter concerning Eula ISD's closure due to COVID-19.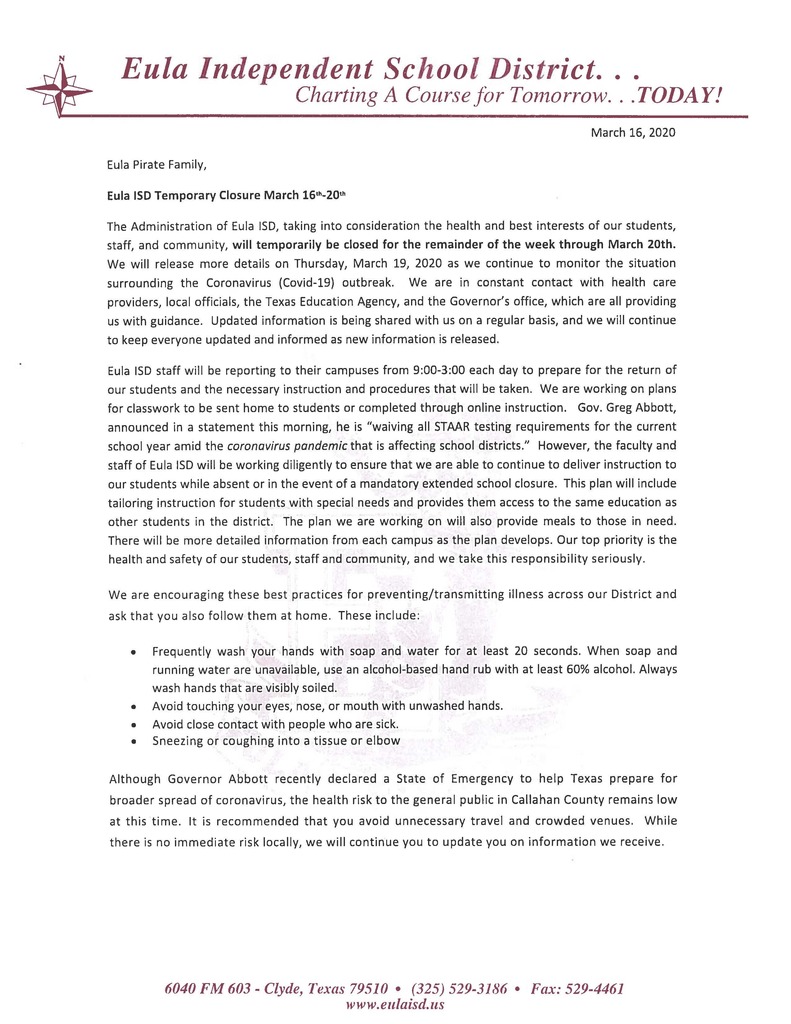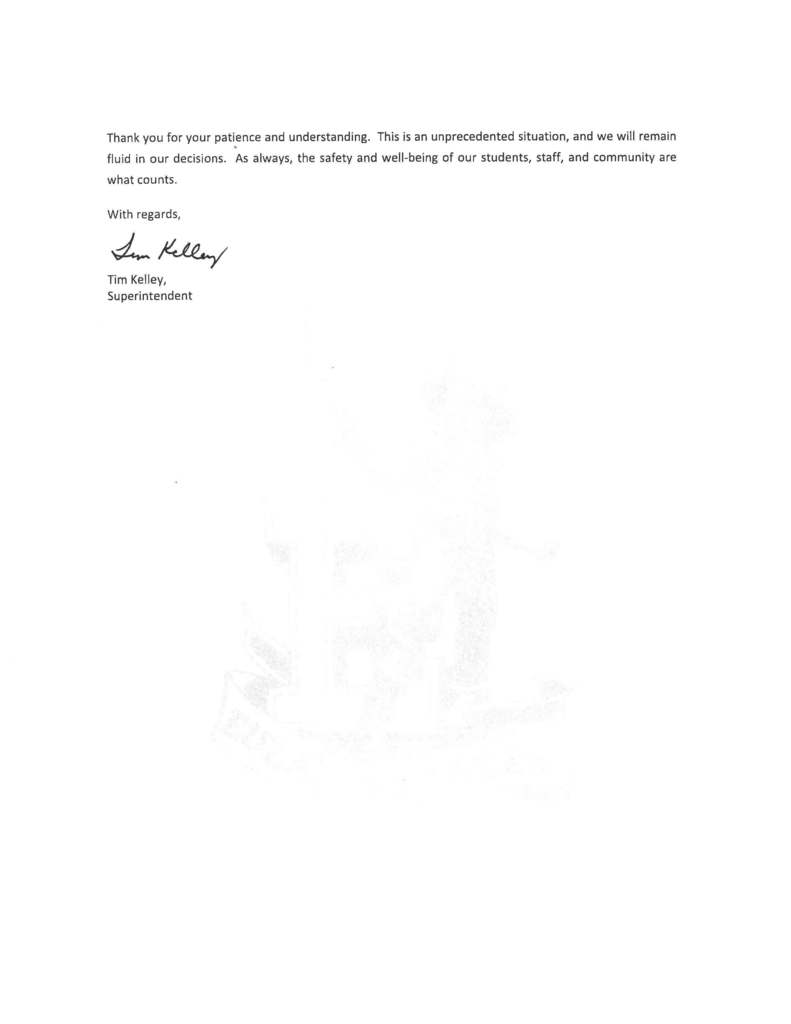 Reminder that Eula ISD will be closed Monday and Tuesday due to precautions over COVID-19. A student survey over Spring Break travel and potential COVID-19 exposure has been sent out via Eula App, twitter, and Facebook. Please fill out the survey for each student ASAP.

Parents, please fill out one of the attached screening forms for each of your students. This information is needed as we prepare to make decisions that keep our students, staff, and community safe.
https://forms.gle/VCUQsiFV92kjN64b8

Due to situations beyond our control, all Eula Pirate Band events for the upcoming week have been cancelled. We look forward to seeing you when school resumes.

Per the UIL Release from earlier today, all UIL contest will be suspended from March 16th-29th. There will be no practices until classes resume, which is now scheduled for Wednesday, March 18th. Eula ISD will keep you informed with any further changes to status of extra-curricular events.
The highest priority of Eula ISD is the health and safety of our students, staff, and community. With growing concern over COVID-19 the district is having preventative closures on Monday and Tuesday. The district will spend those days preparing for the return of students on Wednesday, unless otherwise mandated by the Texas Education Agency, Centers for Disease Control and Prevention (CDC), or Texas Commissioner of Education.
We have just been notified by the HEB Foundation Encampment that the campsite will be closed for the next two weeks; therefore Baird/Eula Outdoor Education (scheduled for March 17-20) will be postponed with the possibility for a later date. Thank you.

Congrats to the following Pirates for their All-District 20A Honors. Co-MVP- Dakota Boles, Jayton Jones Newcomer of the Year- Joseph Click 1st Team- David Phillips, Dakota Carson Honorable Mention- Daniyl Phillips, Collin Brown The Pirates ended the year as the District 20A Champions, Area Champions, Regional Quarter-Final Champions, and Regional Semi-Finalist. Eula won 30 games for only the 4th time in the last 25 years. Way to go Pirates!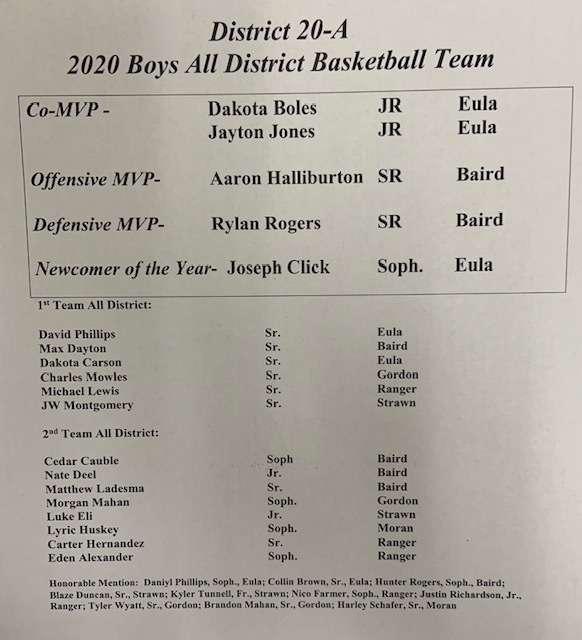 The Pirates fell to Slidell tonight in Mansfield. Congratulations boys on a great season. We are proud of you!

End of 3. Eula 14-Slidell 47

Eula 11, Slidell 32 Half